This is always a big week for news in the gun world.  This is SHOT Show week.  Today, we will be featuring news from the shot show.  There are some cool new products and some interesting business news.  While the rest of the gun world looks at the latest, newest models, we at High Caliber radio have a few classic firearms to review as well.  We will look at the first Polymer frame pistol, the HK P9S, The classic Smith and Wesson Model 36, Chiefs Special and the Colt 1908 Pocket Model Automatic.
This 2018 at SHOT Weatherby, Inc. announced that their time in California has come to an end. Weatherby is moving to Wyoming.
Weatherby is bringing 70 to 90 jobs with them. That may not seem like a lot to California but it should add over $5 million in payrolls to the Cowboy State in the next five years alone.
"We wanted a place where we could retain a great workforce, and where our employees could live an outdoor lifestyle," said Adam Weatherby, chief executive officer. "We wanted to move to a state where we can grow into our brand. Wyoming means new opportunities. We are not interested in maintaining; we are growing."
"So, to bring those two things together–an internationally-known manufacturer of outdoor equipment headquartered in Wyoming–it will pay dividends, not only to Sheridan and northeast Wyoming, but this is a project of which the entire state should be proud," Reese said.
Remington's TAC-14 firearm is a popular way to tie up a lot of firepower into a compact little package. While it may look like a short-barreled shotgun, it is, in fact, considered to be a "firearm" under current NFA regulations.
For SHOT Show 2018, Remington has taken the TAC-14 firearm and updated with a look that hearkens back to the classic "Witness Protection" sawed-off shotguns used by Federal Marshal Service agents to provide them with the punch of 12-gauge shotgun in an easy-to-carry size.
The short-barreled Witness Protection shotguns were a staple of firearms media in the '80s and '90s, and they also appeared in the hands of actors playing Federal Marshals in movies like "Eraser" and TV shows such as "Justified," giving it a place in firearms lore that goes beyond most shotguns and makes it an iconic firearm that symbolizes a certain time and place in gun history.
The Remington TAC-14 Hardwood combines the ease of purchase of the TAC-14 firearm with the classic good looks of the Witness Protection shotguns to produce a gun that looks great and is easy to wield in tight confined spaces. The TAC-14 Hardwood is a 12-gauge firearm that has a 14-inch, cylinder-bore barrel and has a 5+1 magazine capacity. The gun has a sling swivel in the front and rear and comes with a nylon sling for easy carry. In all other aspects, it's essentially identical to the original TAC-14 firearm that it's based upon.
The TAC-14 firearm is slightly longer than it's short-barreled shotgun predecessor, but other than that, it looks and feels like the classic shotgun of the Marshal's service, and with an MSRP of $499, you can get the trusted firepower of a government agent without having to take out a government loan to get one.
LWRCI 224 Valkyrie
If it's your ambition to own the flattest-shooting yet softest-kicking AR-style rifle at your gun club, look no further than the LWRCI DI 224 Valkyrie. This new edition marries a finely crafted firearm with the most exciting cartridge introduction of the decade. The impressive .224 Valkyrie, developed by Federal, is just a bit bigger than the 5.56×45 mm NATO/.223 Rem. in terms of case and bullet dimensions, but so much more when it comes to performance. Shooting a 90-gr. Sierra MatchKing, the Valkyrie reportedly "provides less wind drift and drop than all other loads in its class and stays supersonic past 1,300 yards." Out to 800-plus yards, its trajectory is on par with the popular 6.5 mm Creedmoor at less than half the recoil.
Components here that helped rocket LWRCI to the top rank of AR makers include its proprietary direct-impingement (DI) operation and DI bolt carrier group. On top of that are first-rate touches like an MLOK free-float rail, ambidextrous lower controls and charging handle, as well as a Magpul MOE+ Grip. Literally, this is the latest word in long-range semi-automatics. MSRPs range from $2,000 to $2,150, depending on the model.
Bergara HMR Pro
U.S.-assembled Bergara bolt-actions are a genuine value in today's precision-rifle category, and that is clearly the case with the new HMR Pro. It features the company's proprietary Premier twin-lug action whose "floating" (pinned) bolt head ensures perfect contact with the lug abutments. It boasts a cone-shaped bolt nose for smoother feeding and is fitted with a TriggerTech Frictionless Release trigger. The safety is also part of the trigger assembly, and thus it allows the gun to be unloaded while on safe. The 416 stainless barrel, made and honed at Bergara's state-of-the-art barrelworks in Spain, receives a Cerakote finish when paired with the action at the company's Georgia assembly plant. The unique HMR stock contains a mini-chassis for bedding integrity that will not budge, no matter the conditions. For an MSRP of $1,715, this is everything you need and more for durability and long-range sharpshooting.
Walther PPQ SC
Yes, the Walther PPQ SC is smaller than the much-loved PPQ Classic–.5 in. shorter and 3.3 ozs. lighter—but might not quite be what many would consider a sub compact (hence "SC"). And that's a good thing in this case, because this trim, polymer-frame, striker-fired 9 mm plants so naturally in one's hand you feel like you're shooting something bigger. The downsized model sports distinctive Walther looks and, like others in the PPQ line, provides smooth shooting thanks to what the maker claims is the "best trigger on the market." We found it to be very consistent both in resistance (5.6-lb. pull) and travel (.4 in.), which made our range session very enjoyable. Extra quality comes from multiple safeties; prominent, well-placed magazine release and slide lock controls; and low, no-snag 3-dot sights, including a windage-adjustable rear unit. Even better was the extended surface afforded by the Grip Sleeve that comes with the optional 15-round magazine (standard magazine is 10 rounds), which made this fine everyday-carry candidate fit even that much better. The MSRP is $649.
Ruger Security-9
The Security-9 is a scaled-up version of Ruger's popular LCP II .380 ACP, giving consumers size and firepower options in the polymer-frame, double-stack category. Still a manageable 23.7 ozs., and 7.25 in. long, the Security-9 offers another solution for everyday carry and home defense while packing 15 rounds of 9 mm Luger in its steel magazine. At that size and ammunition capacity, Ruger's new personal protector will meet the needs of many armed citizens.
Like it's smaller twin, the new pistol is an efficient, hammer-fired double-action with a passive trigger safety. Depressing the trigger completes the hammer's cocking cycle and fires the gun in one smooth, consistent press. Quick-acquisition white-marked sights pair a front blade with a rear notch, both drift-adjustable. For durability's sake, the working components are part of a hard-anodized aluminum chassis embedded within the polymer grip frame, and it boasts full-length slide rails. The MSRP is $379. You can read more about this gun here and see it in action here.
Hi-Point 1095TS 10mm Carbine
Hi-Point has been a long-time fixture in the pistol caliber carbine (PCC) market with popular versions in 9 mm Luger and .45 ACP. Now the company is answering the call for an even harder-hitter with their 1095TS in 10 mm Auto. With 200-gr. bullets, the new carbine's 17.5-inch barrel generates a stout 1,300 feet per second (f.p.s.) in muzzle velocity. Offered with a skeletonized molded stock in basic black or the new Realtree Edge pattern, this potent tool is equally suited to home defense and hunting deer-sized game at close ranges. The 1095TS comes with ghost-ring rear/post front sights, but is also outfitted with a Picatinny rail for easy optic installation. Weighing 7 lbs., the carbine settles well on target, and while the single-stage trigger pull is rather long, it breaks at a manageable 6 lbs. Hi-Point is famous for the value built into its made-in-the-U.S.A. firearms, and this latest offering follows suit, with MSRPs at $389 (black stock) or $405 (Realtree).
S&W M&P M2.0 Threaded Barrel
The "next-gen" M&P M2.0 platform from Smith & Wesson adds a custom touch for 2018 with threaded-barrel models. The M&P9 and M&P45 M2.0 pistols can be had in a ready-for-suppressor version that also includes suppressor-height white-dot sights and a thread protector. Like all of the new M&Ps, this one can be optimized for user ergonomics with four interchangeable palmswell grip inserts and it features the line's clean-breaking trigger that has both tactile and audible resets. What has really made the line a winner at the range and in everyday use is pistol's low bore axis and 18-degree grip angle, which combine for an intuitive feel and natural hedge against muzzle rise. And with a suppressor installed, there's next to nothing to disturb shooter concentration. The MSRP is not available.
SIG Sauer MCX Virtus
Inspired by the demands of special operators, the MCX Virtus SBR (short-barreled rifle) from SIG Sauer is a modular marvel that's as adaptable as it is rugged. From a folding/collapsible stock that can instantly reconfigure in five different dimensional modes to user-changeable, cold-hammer-forged barrels in three different lengths and chamberings for 5.56 x45 mm NATO and .300 Blackout, the MCX Virtus brings what SIG calls "the utmost in mission-specific flexibility." Standard equipment includes a 30-round polymer magazine, M-LOK handguards available in four lengths and virtually unstoppable gas-piston operation. Proprietary components include SIG's trademark Matchlite Duo Trigger and proven internal recoil-management system. MSRPs range from $2,233 to $2,341.
Brownells Model: BRN-10A Rifle .308
1955-1960
The BRN-10™ by Brownells brings back to life the original Eugene Stoner, lightweight 308 battle rifle. The BRN-10A barrel features a heavy barrel with distinctive and functional fluting under the handguard.
Heavy contoured barrel with aggressive fluting underneath the handguard
3-Prong, Dutch style flash hider with nitride finish
Brown Retro furniture to mimic original fiberglass look
Weight: 9 lbs
Receivers designed by FM Products are machined from billet 7075-T6 aluminum
Trigger style charging handle underneath the carry handle is retained by internal detent system
308 Winchester 20" QPQ 1-10 Rifle Length Barrel Assembly manufactured by Faxon
Brownells Retro Buttstock Assembly & Pistol Grip
Check back a more detailed product page to come.
Brownells Model: BRN-10B Rifle .308
1955-1960
The BRN-10™ by Brownells brings back to life the original Eugene Stoner, lightweight 308 battle rifle. The BRN-10B features a lightweight barrel, which allows for a quick handling package.
Lightweight barrel assembly
Closed prong, Portugese style flash hider with nitride finish
Black Retro furniture to mimic later production AR-10® rifles
Weight: 8 lbs
Receivers designed by FM Products are machined from billet 7075-T6 aluminum
Trigger style charging handle underneath the carry handle is retained by internal detent system
308 Winchester 20" QPQ 1-10 Rifle Length Barrel Assembly manufactured by Faxon
Brownells Retro Buttstock Assembly & Pistol Grip
Check back a more detailed product page to come.
Brownells Model: BRN-601 Rifle 5.56mm
1959-1964
The Brownells Model BRN-601 Rifle recreates the classic design of the original AR-15 issued to the United States Military in the early 1960s.
Model 601 Style Lower Receiver with slab side
Slickside Upper Receiver
Matte gray anodizing (not painted)
20″ 5.56x45mm NATO Barrel with 1-12 twist & chrome bore
Chrome, Duckbill 3 Prong Flash Hider
Green buttstock, pistol grip & handguard assembly
Includes 20rd Magazine, GI Operations Manual & Chamber Flag
Brownells Model: XBRN16E1 Rifle 5.56mm
1964-1967
The Brownells Model XBRN16E1 Rifle replicates the design of the first AR-15 to be issued in mass numbers to US Army on the ground in Vietnam.
XM16E1 Style Lower Receiver with partial "magazine fence"
XM16E1 Upper Receiver
Matte gray anodizing (not painted)
20″ 5.56x45mm NATO Barrel with 1-12 twist & chrome bore
Chrome, Bolt Carrier Group with forward assist serrations
3 Prong Flash Hider
Black buttstock, pistol grip & handguard assembly
Includes 20rd Magazine, GI Operations Manual & Chamber Flag
Brownells Model: BRN-16A1 Rifle 5.56mm
1967-1982
The Brownells BRN-16A1 Rifle replicates the iconic M16A1 rifle issued to thousands of US Soldiers, Marines, Sailors & Airmen.
M16A1 Style Lower Receiver with full "magazine fence"
M16A1 Upper Receiver
Matte gray anodizing (not painted)
20″ 5.56x45mm NATO Barrel with 1-12 twist & chrome bore
Mil-Spec Phosphate/Chrome Bolt Carrier Group
A1 Flash Hider
Black buttstock, pistol grip & handguard assembly
Includes 20rd Magazine, GI Operations Manual & Chamber Flag
Brownells Model: XBRN177E2 Rifle 5.56mm
1967-1982
The Brownells XBRN177E2 Carbine is an homage to the classic carbine used by US troops in Vietnam.
M16A1 Style Lower Receiver with full "magazine fence"
M16A1 Upper Receiver
Matte gray anodizing (not painted)
12.7″ 5.56x45mm NATO Barrel with 1-12 twist & chrome bore
XM177 flash hider with grenade ring (pinned and welded to meet legal length)
Mil-Spec Phosphate/Chrome Bolt Carrier Group
Black CAR buttstock, pistol grip & handguard assembly
Includes 20rd Magazine, GI Operations Manual & Chamber Flag
New Handguns – Confirmed
All kinds of new revolvers and pistols are rolled out at the SHOT Show. This year promises to have some significant introductions from companies like Smith & Wesson, Ruger and Glock.
The following are the new guns confirmed to be announced/shown at the expo:
Taurus Model 692 Multi-Caliber Revolver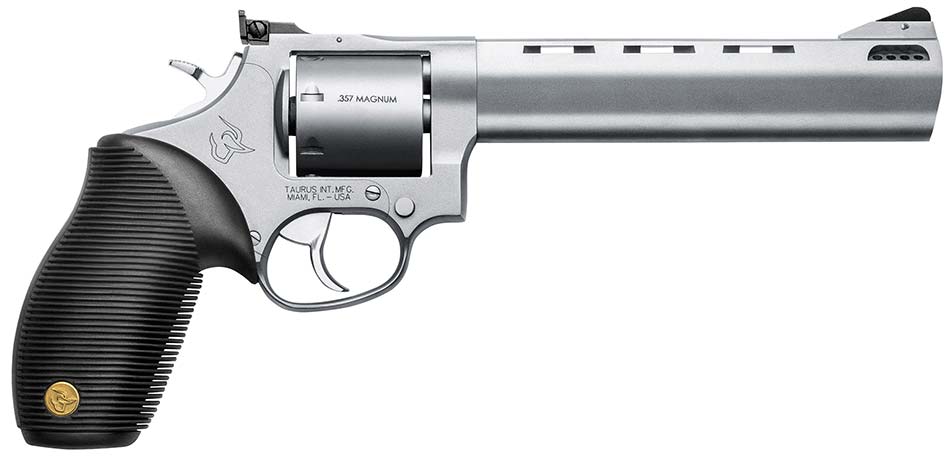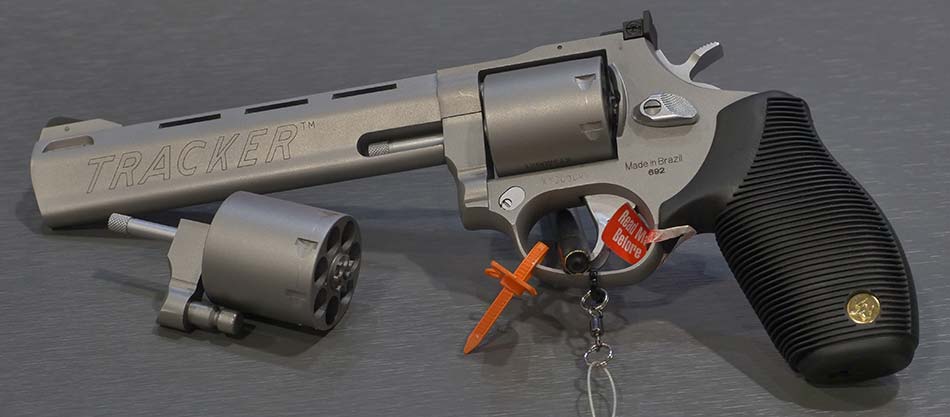 Taurus has a new 7-shot .357 Magnum revolver. But the twist is that it also shoots 9mm rounds via an included conversion cylinder. Click here for the details on the Taurus Model 692.
Seekins Precision NXP8
This is an AR-style pistol chambered in 300 BLK with a match grade 8″ barrel. It is equipped with the SB Tactical PDW pistol brace and 7″ NOXs handguard with M-LOK attachment points. The MSRP is $1,879. Seekins tells me these will ship in February. You can pre-order them now.
Full Conceal M3G43
Dubbed a "super subcompact," the Full Conceal company applied its engineering to the Glock 43. The general concept is the company cuts the grip off, puts it on a hinge and adds its own trigger and trigger guard assembly. In theory this makes the gun concealable enough to carry a 12 round, single-stack magazine in a folded state.
When a vicious attacker presents himself, you would need to draw the gun, unfold it and chamber a round prior to putting any rounds into the target. Seems like a slow process to me.
The gun shown at the SHOT Show is a prototype with the final pistols shipping this spring. If you want one, the cost will be $1,399.
I have not met anyone who thinks these kinds of pistols are a good idea. If you do, I'd appreciate an education on why these are good for concealed carry or self-defense. Please leave your thoughts in the comments section below. Please just keep the conversation civil.
Ed Brown ZEV 1911
Ed Brown Products and ZEV Technologies teamed up for this limited edition 1911 style pistol. It is based on the ZEV Dragonfly, that company's most popular design. It has a Government size frame with a light rail and a Commander length slide. The gun is fitted with a Trijicon RMR sight and tall sights in addition to the slide cuts and other styling embellishments.
Walther PPQ Sub Compact
Click this link to see my article on the new Walther PPQ SC.
Auto Mag Classic .44
The Auto Mag Ltd. Corp. announced it was now shipping the Classic .44 pistol. The initial pistols are the .44AMP Founders Edition guns with the 8.5″ barrel. This run of pistol is limited to only 77 units. The second run is already in production. The second run of Auto Mag pistols is open to pre-order ($3,495-3,795) and will be delivered within 60 days.
These guns have the look and feel of the originals, but the company claims they are "far superior" mechanically to the old models.
Nighthawk Custom Agent 2
Nighthawk Custom introduced the Agent 2, an evolution of the Agent 1 that was introduced less than a year ago at the NRA Annual Meetings in 2017. At its core, the Agent 2 is a full size 1911-style pistol that is available in 9mm and .45 ACP. The rest is enhancements and styling. It has a match grade barrel and bushing, Heine Ledge rear sight and fiber optic front sight, an accessory rail, G10 grips and a Cerakote finish. The base price is $4,495.
DRD Tactical FERRO
DRD Tactical announced the FERRO – a steel framed, Glock magazine compatible 9mm pistol. I've got a lot of details in this article: DRD Tactical FERRO 9mm.
Smith & Wesson M&P M2.0 Threaded Barrel
Smith & Wesson announced it would now offer suppressor ready versions of the 9mm and .45 ACP chambered M&P M2.0 pistols. The guns will have threaded barrels and taller sights. The suggested retail price is $599 for either caliber choice.
Taurus Model 856 Revolver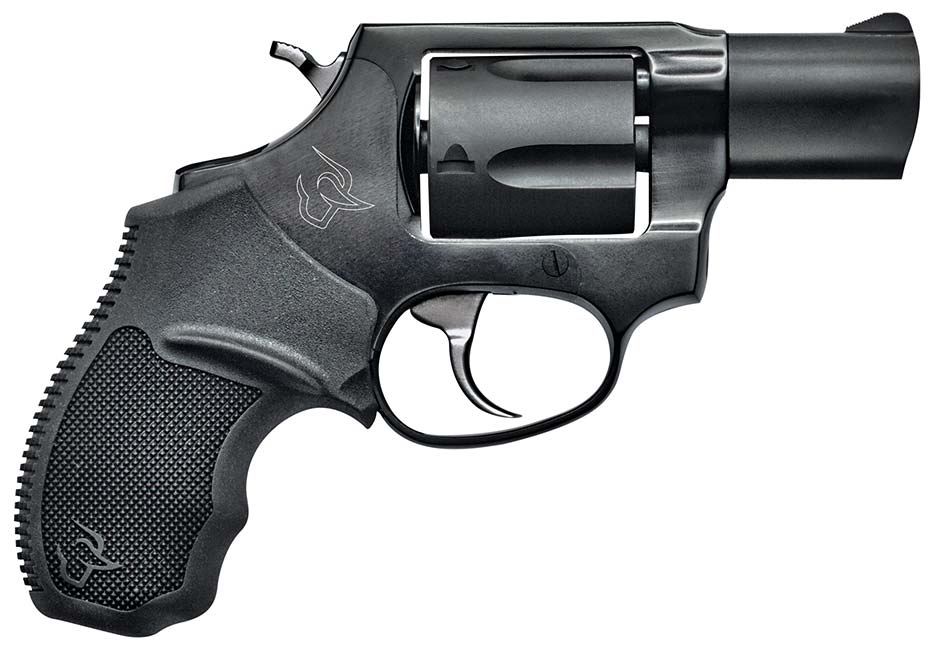 Taurus announced the return of the Model 856 revolver to its line up. For more on this 6-shot, compact revolver, check out my article on the Taurus 856 revolver.
Rex Alpha
FIME Group announced it would soon be importing the Rex Alpha competition-ready pistol from Slovenia. The gun is designed with a DA trigger and short reset, steel frame, frame mounted safety with the decocker eliminated, wraparound grip, flared magazine well and extended beavertail. It has a 5″ barrel and is chambered in 9mm.
Taurus Raging Hunter
This is a visually striking 6-shot .44 Magnum revolver designed for hunting. I've got the details here: Taurus Raging Hunter.
Archon Firearms Type B
Archon Firearms is showing. its Type B pistol at the SHOT Show. Details forthcoming.
Taurus 1911 Commander
Taurus has a new 1911 for the show. The Commander size gun has a full size grip with an 8 round magazine and a 4.2″ barrel. The finish is matte black with matching grip panels. Novak drift adjustable sights are on top. Taurus 1911 pistols generally get good reviews at their price point, and this one probably will too. It has a suggested retail of only $609.
Draco NAK9
If you've ever wanted a 9mm AK-style pistol that feeds from Glock pattern magazines, Century Arms has the gun for you. For the SHOT Show, the company is introducing the Draco NAK9 is a Romanian made 9mm handgun that has an 11.4″ barrel and weighs about 6.4 pounds unloaded. It is compatible with AKM-pattern handguards and comes with a single 33-round magazine. Any Glock 17 or Glock 19 magazine should work in this gun.
Springfield Armory XD-S Mod.2
Springfield Armory has a new version of the XD-S: the Mod.2. The new guns appear to be the same general shape but not the exact same size as the original pistols. The grip width increased by 0.075″ and the length by 0.2″. The weight, however, remains the same. It will be interesting to see if the old XD-S holsters will fit the new gun. No – it doesn't say "Grip Zone" on the frame. For now, only .45 ACP versions of the gun are shown. I would expect a 9mm announcement later this year.
Remington RP45
Remington's polymer RP9 seemed to be received with apathy by the shooting public. Pre-Christmas bargains on these guns were ridiculously cheap leading some to believe dealers were just trying to clear their inventory of them. However, the demise of the pistol line may be exaggerated as the company is finally releasing the RP45. This pistol was developed in parallel to the RP9 but has not shipped yet. Remington will have it at the SHOT Show. The image above is from the company's new catalog.
SIG P365
SIG SAUER announced the P365, a striker-fired pistol the company calls a "high-capacity micro-compact" handgun in 9mm. In some measurements – width, length and unloaded weight – the gun is a bit smaller than both the Glock 43 and Smith & Wesson Shield. Yet, the gun can hold 10+1 rounds in a flush-fitting, double-stack magazine. An extended magazine add two more rounds. The MSRP is $599. I look forward to handling one of these and seeing how it shoots.
Glock 19X
Glock announced the model 19X – a gun that mates a G17 frame with a G19 slide and barrel. Essentially, you wind up with the decreased sight radius and bullet velocity of the compact gun with the increased difficulty of concealment from the full size frame. But, it does come in the chic coyote color. Plus 2 magazine extensions ship with the gun, so you do get 19+1 rounds of 9mm on tap with a fully loaded pistol.
FN 15 Pistols
FN America is introducing a new series of FN 15 pistols at the show. Chambered in 5.56 NATO or 300 BLK, these handguns are variants of the company's FN 15 rifles. Additional information can be found on the guns at my FN 15 Pistol article.
Ruger Security-9
The Security-9 is a full-size 9mm pistol designed to be very affordable. It uses 15 round magazines that are compatible with the Ruger SR9 line of handguns. It is a hammer fired with a Secure Action trigger system similar to that of the LCP II. I found the LCP II pull to be very light and crisp, so this $379 (MSRP) pistol may have a very nice trigger indeed.
Ruger EC9s
Announced prior to the show, the new Ruger EC9s is a more affordable variant of the LC9s pistol. The suggested retail is less than $300 on this one.
Springfield Armory Operator 10mm
Springfield Armory has a pair of 10mm pistols to show off this year. Both are the company's TRP Operator 1911-style pistols. One has a 5″ barrel, and the other has a 6″ tube. Both feed from 8-round magazines.
FMK Elite Pro
This new 9mm will be on display in January. It has a threaded barrel and a slide cut for the direct addition of a red dot optic. The Trijicon RMR, Vortex Viper and Vortex Venom mount directly without the need for an adaptor plate. The gun has a new grip texture, beveled magazine well and a redesigned slide stop. The suggested retail price will be $679.95.
Timberwolf Large Frame
Lone Wolf Distributors will show a new Glock compatible frame at the show. The new frame is compatible with the 10mm and .45 ACP pistols. It includes:
ability to work with Gen3 and Gen4 slides
higher grip angle than the OEM Glock
two different grip lengths
two sizes of swappable backstraps
accessory rail
various grip texture options
CZ Scorpion EVO 3 S1 with Folding Brace
CZ-USA will have its new Scorpion EVO 3 S1 with a folding brace on hand. The pistol offers a factory arm brace option that many people have been wanting. The 9mm pistol has a flash can muzzle device that can be removed to add a suppressor. This pistol carries a suggested retail price of $999.
CZ P-10C in Urban Gray with Threaded Barrel
This is not earth shaking, but the new Urban Gray color does offer shooters an option when buying the P-10C with a threaded barrel. The MSRP is $559.
Kimber 1911 Style Pistols
It should not be a surprise to many Kimber fans, the company is rolling out a lot of new 1911-style pistols in 2018. The company recently announced what some of the new guns are that will be on display at the SHOT Show. These will include:
five new Aegis Elite pistols including several that have red dot style optics
five new KHX pistols including several that are "optics ready" for adding a red dot sight
Stainless Target Long Slide in 10mm and .45 ACP (6″ barrel $1,055-$1,075)
Kimber Hero
Kimber Mfg is working with the Boot Campaign to offer this pistol in 2018. The 1911-style pistol is a Kimber Custom with custom engraving, a matte black slide and parts, FDE frame and Kryptek Highlander grip panels. It will be chambered in .45 ACP. The suggested retail price of this gun will be $987.
Additional Kimber K6S Revolvers
Kimber will show three new K6S revolvers at the show. These will be the CDP, the DC and the Stainless 3″. While the first two are very attractive, the new Stainless model with the 3″ barrel is the most interesting to me. An extra inch of barrel length can give the .357 Magnum (and .38 Special) significant velocity gains while also lengthening the sight radius. This could make for a great CCW gun.
New Rifles & Shotguns – Confirmed
Long guns of all types are shown off at the annual exposition. While the AR platform has taken center stage the last several years, there will be many new guns offered at this year's show that take the market in both new and traditional directions.
The following are the new rifles and shotguns that are confirmed to be announced/shown at the event:
Marlin Model 1894 CST
Marlin was showing its new Model 1894 CST lever action rifle at the SHOT Show this year. The gun is designed for "quick handling in all weather." The barrel and action are all stainless steel and the stock is synthetic. The barrel is 16.5″ long and threaded for the easy addition of a sound suppressor. The guns use XS ghost ring sights and have a big loop lever. It is chambered in .357 Magnum and will also shoot .38 Special.
RISE Armament 1121XR
RISE Armament announced ti was now selling a new .308 Win chambered rifle called the 1121XR. According to the company, the XR stands for "extreme range." RISE Armament backs the gun with a sub-MOA guarantee. It uses a 20″ barrel that is made of 416R stainless steel. The 9.5 pound rifle has a slim aluminum handguard with M-LOK attachment points and a Magpul PRS at the shoulder. It comes with a lifetime manufacturing warranty and is made in the USA.
Heckler & Koch HK433
H&K announced a new assault rifle at the SHOT Show. Called the HK433, the company states the new rifle combines the strengths of the G36 and HK416 rifles. H&K designed to the gun to be as modular as possible so that it can be adapted to the needs of the military unit using it. Much of the part swapping – such as barrels and charging handle location – can be handled by the user instead of an armorer. The gun is chambered in 5.56 NATO.
Beretta PMX SMG
Although this new submachine gun was introduced a few months back, the SHOT Show is the first time most US shooters will have been able to see it. This folding stock SMG is chambered for the 9mm cartridge using a closed-bolt, blowback design. It looks like a fun gun, but a fairly conventional one. It has a three-position, ambidextrous selector switch, oversized magazine release button and plenty of Picatinny rail for the addition of lights and such.
Historic AR Series from Brownells
In recent years, the history of the AR platform has become more interesting to a lot of people. To take advantage of this, Brownells is now offering a number of reproduction guns based on the AR evolution's early days. For example, they are offering reproductions of the original AR-10A .308 rifle, the XM16E1 5.56 and the X177E2. Click here to see all of the guns.
Umarex Hammer

Umarex USA announced the company designed and was now manufacturing a .50 caliber air rifle called the Hammer. For those that think air rifles are just toys for for squirrels only, I say this: this rifle will launch a 550 grain lead slug at about 760 fps. That works out to be more than 700 ft-lbs of energy. That's in the same ballpark as the .44 Magnum. Lighter loads go faster, of course. The 180 grain ARX projectile will hit about 1,100 fps.
Umarex uses a straight pull bolt that needs only 2 pounds of cocking pressure. The air tank holds 4,500 psi of compressed air. The trigger pull is set at 3 pounds. The gun uses a Magpul pistol grip and has M-LOK attachment points for accessories.
CMMG Mk4 DTR2 in 223 Valkyrie
CMMG is showing off its newest Mk4 DTR2 rifle, this one chambered in the new 224 Valkyrie cartridge. The gun has a similar set up to the other DTR2 rifles. It has a 24″ medium taper barrel with a 1:7″ twist and CMMG SV brake. The excellent Geissele SSA 2-stage trigger is standard as is the Magpul pistol grip and PRS stock. The handguard has M-LOK attachment slots. New to the company is the CMMG Ambi Charging Handle that is standard on this new rifle.
Steyr Zephyr II
Styer officially introduced the Zephyr II rimfire rifle to the US market at the SHOT Show. This bolt action gun is designed to be a high quality rifle, not an inexpensive weekend plinker. It has a cold hammer forged 19.7″ barrel with a walnut stock that has a Bavarian cheekpiece and fish scale checkering on the pistol grip and handguard. It feeds from a 5-round detachable magazine. It is chambered for three different cartridges: the .17 HMR, .22 LR and .22 WMR. The suggested retail price is $995. If you want a threaded barrel, that will cost an additional $25.
Anderson Manufacturing AM15-BR
This is a fairly basic AR, and the company states it is their entry level rifle. The company tells me that this is designed to offer very good quality while still being very affordable. It has a 16″ barrel with 1:8″ twist and M4 contour, low profile block, carbine length gas system and an A2-style handguard, pistol grip and flash suppressor. The receivers are hard coat anodized 7075-T6 aluminum. It is chambered for the 5.56 NATO cartridge. The suggested retail price is $499. Actual dealer prices could be even less.
Benjamin Fortitude
Crosman Corp announced a new regulated air rifle called the Fortitude. It is sold under the Benjamin brand and is offered in both .177 and .22 caliber. The PCP air rifle will give you up to 90 shots per fill with consistent velocities. A .22 caliber pellet can be pushed to 800 fps on the first pull of the trigger and the last. The rifle feeds from 10-round magazines. It is also a fraction of the weight of the old Marauder.
Weatherby Mark V CarbonMark
Weatherby announced an addition to the Mark V line: the CarbonMark. This is the company's first rifle that uses Carbon Fiber barrel technology. The barrels were specially made by Proof Research, and Weatherby offers a sub-MOA guarantee on these guns. Barrels are 26″ long with a #4 contour. They use a 416R stainless steel core and are threaded for a suppressor. The rifle is chambered for three different cartridges: .257 Weatherby Magnum, 6.5-300 Weatherby Magnum and .300 Weatherby Magnum. The guns retail for $4,100.
Mauser M18 Rifle
Mauser announced a new synthetic stock bolt-action rifle called the M18. The new gun is priced aggressively ($699 MSRP) and comes with a number of nice features including soft inlays in the stock, an adjustable trigger and a 5-round detachable magazine. It is offered in chamberings for the .243 Win, .308 Win, .270 Win, .30-06 Sprg, 7mm Rem Mag and 300 Win Mag. A rifle for the 6.5 Creedmoor will be offered later this year.
Henry Repeating Arms Color Case Hardened Big Boys
Henry Repeating Arms announced new color case hardened versions of its Big Boy carbines and rifles. The new guns will be available in .44 Magnum, .357 Magnum and .45 Colt with both barrel lengths (20″ rifle and 16.5″ carbine.) These guns join the existing color case hardened .30-30 and .45-70 rifles made by Henry.
Kalashnikov USA 9mm Rifles
Kalashnikov USA announced that its long-awaited 9mm rifles would be at the SHOT Show. These rifles were announced several years ago, but have yet to ship. I hope they are ready to go now.
New Calibers for Franklin Armory Militia Praefector-M
Franklin Armory announced two new chamberings for the Militia Model Praefector-M rifle: 6mm Creedmoor and 6.5 Creedmoor. Both guns have 20″ barrels and mid-length gas systems, a Franklin Armory FSR 14″ handguard, receiver tension screw, a custom tuned trigger and Magpul PRS stock. The MSRP will be $2,679.99 for either of them.
Smith & Wesson M&P15-22 Sport Blue Platinum
S&W announced a new color option for the incredibly popular M&P 15-22 Sport rifles. This .22 LR will sport a Robin's Egg Blue Platinum finish. Think tiger stripe meets baby nursery.  The gun has all of the normal features like Magpul M-LOK handguard, adjustable stock and 25-round magazine.
QC10 S226
Quarter Circle 10 announced a new pistol caliber carbine that will feed from SIG SAUER P226 magazines. It is called the S226. It sounds like the first guns/lowers will be in 9mm. I imagine .40 S&W and .357 SIG versions might not be far behind. I'll try to get some photos for you as soon as I can.
IWI US TAVOR T12 Shotgun
Yeehaw. I don't know if I've seen anything else announced at the SHOT Show (so far) that looks as much like fun as this new shotgun. The new TAVOT T-12 is a bullpup, semi-automatic, gas regulated 12 gauge shotgun that holds up to 15 2.75″ shells or 12 3″ shells. It will be offered in black, FDE and OD green. While the $1,399 price tag isn't cheap, it is a lot less than I was afraid it might be. I think this might be the most popular toy at range day this year.
Cimarron US Marshal Carbine
This modern interpretation of the Winchester 1873 carbine was developed at the request of a US Marshal who wanted a functional duty rifle that was representative of the agency's history. The result was this US Marshal Carbine. The gun is chambered in .44 Magnum and is slightly shortened, including a 2″ shorter barrel, when compared to the original 1873 rifle. This makes it easier to move in and out of a vehicle with the gun. It will be available to all citizens in the spring with a suggested retail price of $1,402.
Battle Rifle Company BR10
Battle Rifle Company announced it was now making AR-10 style rifles with its new BR10 line. This gun is chambered in 7.62 NATO/.308 Win and has an 18″ cryogenically treated barrel with a 1:9.73″ twist. An Odinworks KeyMod rail is standard as is a Geissele SSA trigger, AXTS Raptor charging handle and Magpul ACS stock. The gun ships with a single metal magazine and bag. It has a MSRP of $2,998.
Dark Storm Industries DS-10 Hunter
Dark Storm Industries has a new rifle: the DS-10 Hunter. The new gun can be had in .308 Win or 6.5 Creedmoor. It comes with a fixed Magpul stock, Hogue grip, and 18″ threaded barrel. The gun has a hydrodip finish with the Next G2 pattern. The MSRP is $1,445. I've had a chance to shoot DSI products in the past (like this DS-9) and found them to be quality products.
Crosman's New Full Auto DPMS SBR
This isn't a firearm, but it is an air rifle – and a pretty cool one at that. Based on the DPMS PDW, this is a full auto BB gun that can put 1,400 rounds per minute down range. That's a lot of Copperhead BBs. It runs on a pair of 12 gram CO2 cartridges that are stored in the 30-round magazine. It has an AR compatible grip, 6-position stock, angled fore grip and quad rail. It is also less than $180. Nice.
TNW Aero Survival Rifle in .22 WMR
TNW Firearms will show off its new .22 WMR rifle at the SHOT Show. The rimfire magnum rifle retains the takedown capabilities and AR style controls of the centerfire rifles in this line. According to the company, this gun will feed from Remington 597 magazines and will come with a single 10-rounder. The rifle is expected to start shipping in the spring of 2018 and conversion kits for existing Aero Survival Rifles will also be available.
Franklin Armory Reformation
The pre-show hype on this one is interesting. Prior to the show, Franklin Armory announced that the Reformation, an AR-style gun, has an 11.5″ barrel and a Magpul SL shoulder stock. Normally, this would make it a short barrel rifle requiring a BATFE tax stamp per the National Firearms Act (NFA). However, the company specifically states that this firearm does not need a tax stamp. While Franklin Armory has not spilled the beans on how they have pulled this off, there is a great deal of speculation about it. No word yet on what it fires. When I know more I will update this page.
Update: It seems that this new firearm has straight grooves in the barrel instead of spiral rifling. This avoids the US federal definition of a rifle, so it can be equipped as an SBR without the need for an NFA tax stamp. Of course, there is a hug compromise with this gun: accuracy. According to one rep, the gun shot 4 MOA at 50 yards. I don't know if he meant 4″ groups at 50 yards or much smaller groups (true 4 MOA).
An SBR that shoots 4 MOA is viable. One that is 8 MOA is less so. The real key is to see barrel makers offer a straight grooves as an option for home builders to make their own non-NFA firearms.
Arsenal SLR-107R Variants
At the SHOT Show, Arsenal will show off a pair of new SLR-107R rifle variants. Functionally, these are identical to existing guns. The new rifles will have your choice of Desert Sand colored furniture or OD Green furniture. The new guns carry the same suggested retail price as the existing ones: $879.99.
Weatherby Vanguard First Lite
Weatherby announced a new Vangaurd model for the SHOT Show. This new model uses a synthetic Monte Carlo stock like the one used on its Vanguard Synthetic model. However, this version of the gun has a new camouflage pattern that uses a "proprietary mix of 'crackalature' shapes and colors" that are designed for "macro and micro disruption." The gun comes with a sub-MOA guarantee and can be had in any of eight different calibers.
Seekins Precision HAVAK Pro HP1
Seekins Precision announced a new bolt action rifle that is the first of its tactical line. Called the HAVAK Pro HP1, the gun features the company's HAVAK short action and a 24″ stainless steel match grade barrel. Each gun is hand built and test fired. This rifle is a great way for someone who wants a highly regarded Seekins barreled action is a function platform for a relatively low price. You could buy this and enjoy it until you save up enough money for a high end stock or chassis. The MSRP is $1,995 and it can be had in 6.5 Creedmoor or .308 Win.
Ruger Precision Rimfire
Sturm, Ruger & Co. is showing a .22 LR version of the Ruger Precision Rifle. This gun is set up in a manner very similar to the centerfire version of the rifle. It has an 18″ cold hammer forged target barrel that is threaded for the addition of a suppressor or brake. The guns are bolt action, but they do feed from 10/22 magazines like the BX-15 (included) and BX-25.
Savage Left Handed Rifles
Savage Arms has a number of rifles for which it is now offering left handed variants. These include the Model 10/110 BA Stealth, Model 110 Storm, B17 and B22 rifles. While not an earth shattering announcement, these are welcome additions to the line.
Ruger PC Carbine
A lot of people wanted Ruger to bring the PC9, and those wishes have now come true. The new PC Carbine is a 9mm carbine in a traditional rifle form. Unlike the original PC9, the PC Carbine has a few new twists – like the takedown ability and swapable magazine wells. The takedown feature if obvious is a nice addition, but the magazine well interchangeability surprised me. With the change of a magwell, the gun can change what kind of magazine it feeds from. As it ships, it will come with two wells – one for the SR9/Security-9 magazine and another for the Glock pattern magazine. While I'm not a fan of this gun's looks, I am a fan of everything else about it. I hope it lives up to expectations.
JARD California Compliant PCC
JARD announced it was introducing a California compliant version of the J68 pistol caliber carbine. This gun lacks features like a standard pistol grip to meet the laws of that state. It is a bullpup design and feeds from Glock pattern magazines like the original J68.
FN 15 Tactical Carbine FDE P-LOK
This rifle is an extension of the company's growing line of commercial FN 15 AR-style rifles. This model has a chrome lined barrel, three prong flash hider, mid-length gas system and is finished in flat dark earth. The handguard uses the M-LOK standard for attaching accessories.
Phoenix Weaponry .45-70 Auto
Phoenix Weaponry has an AR-10 type rifle that is set up to run a .45-70 cartridge. The .45-70 Auto is essentially a rebated rim version of the classic .45-70 Govt cartridge that will run on a .308 Win bolt. The company claims the rounds hit sub-MOA through this gun. The .45-70 Govt has always been a great hunting cartridge, and a modern adaptation of the gun could be a huge hit.
AlphaWolf Pistol Caliber Carbine
Lone Wolf Distributors has a new piston driven carbine it will show in January. Called the AlphaWolf Pistol Caliber Carbine, it is a Glock magazine fed gun that can be had in either 9mm or .45 ACP. Read more about it here.
Springfield Armory M1A in 6.5 Creedmoor
6.5 Creedmoor is the current darling of the shooting community. So, I expect to see a lot of rifles chambered for it at the show this year. One of the big pre-show announcements is that Springfield Armory is now offering its M1A line in this caliber. There will be different versions available including one with the standard composite stock and one with a precision adjustable stock in flat dark earth. SA describes these as "true 1,000 yard rifles." Pricing runs from $1,985 – $2,045.
Gorilla Firearms GF-10
The new GF-10 is a lightweight, AR-10 style rifle that is being built by Gorilla Firearms. Gorilla Firearms is a new sister company of PCP Ammunition and Gorilla Ammunition. Although the gun will be chambered in typical calibers like the .308 Win, .260 Rem, .243 Win, 6mm Creedmoor and 6.5 Creedmoor, it will also be offered in the new 6.5 SOCOM cartridge. Details are few on this gun, but I'll have more on it as they become available.
Mauser-15 Rifle
Blue Line Solutions announced it would show the Mauser-15 rifle at the SHOT Show. This rifle is a rimfire gun chambered for the .22 LR cartridge. It is a semi-automatic design with an adjustable (three position) stock and 16.5″ barrel. Folding sights are included with the gun. It will be offered in a tan version (shown) and a black version. The company has not released an MSRP yet.
New Shooting Gear
Looking for a flashlight or love to reload? From holsters to lasers, every kind of accessory in the firearms industry is on display at the SHOT Show.
The following are the shooting accessories that have been confirmed to be announced or shown at the SHOT Show:
Lyman Cyclone Case Dryer
Lyman introduced the new Cyclone Case Dryer at the 2018 SHOT Show. The case dryer is designed to quickly dry cases that have been cleaned using a wet process. However, it can also be used as a companion to ultrasonic cleaning systems to more rapidly and completely dry slides, frames and other gun parts. It has enough capacity to process 1,000 .223 cases or 2,000 9mm cases. The dryer has a suggested retail price of $64.95.
RCBS Brass Boss
Read the original article here: http://www.gunsholstersandgear.com/shot-show-2018/ . Make sure you visit GunsHolstersAndGear.com for all of the latest gun news, reviews and SHOT Show coverage.